Tidak Kurang 8 Kenderaan Elektrik Sepenuhnya Dari Mercedes Menjelang 2022
Mercedes-Benz giat meningkatkan portfolio elektriknya untuk serangan besar dalam 2 tahun akan datang. Buat masa ini, syarikat ini hanya mempunyai van penumpang EQC SUV dan EQV yang elektrik sepenuhnya. Mereka mempunyai beberapa kenderaan elektrik hibrid plug-in dan banyak model standardnya adalah hibrid ringan dengan sistem 48V yang disatukan untuk penggunaan dan tork bahan bakar yang lebih baik.
Menjelang akhir 2022, keadaan akan berubah. Syarikat itu mengatakan bahawa mereka akan mempunyai sekurang-kurangnya 8 kereta elektrik di bawah jenama Mercedes-EQ mereka. Ini merangkumi EQA, EQB, EQC, EQE, EQE SUV, EQS, EQS SUV dan EQV. Berikut adalah idea ringkas mengenai kenderaan itu, bila ianya dijangka dan di mana kenderaan itu akan dibina.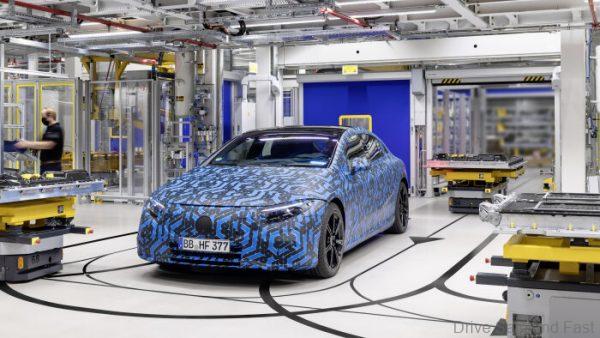 EQA – SUV kompak elektrik, datang awal 2021, dibuat di Rastatt, Jerman
EQB – SUV 7-tempat duduk kompak elektrik, menjelang 2021, dibuat di Kecskemét, Hungary
EQC – SUV elektrik, dilancarkan di beberapa pasaran, dibuat di Bremen, Jerman dan Beijing, China
EQE – sedan bisnes elektrik, yang akan datang pada tahun 2022, dibuat di Bremen, Jerman dan Beijing, China
EQS – sedan elektrik mewah, datang pada pertengahan 2021, dibuat di Sindelfingen, Jerman
EQE SUV and EQS SUV – SUV mewah elektrik, akan datang pada tahun 2022, dibuat di Tuscaloosa, Amerika Syarikat
EQV – penggerak penumpang elektrik, dilancarkan di beberapa pasar, dibuat di Vitoria, Sepanyol
Terus terang kami rasa mereka telah merosakkan tatanama elegan mereka yang mengambil masa yang lama untuk disempurnakan. Sebelum kedatangan sub-jenama 'EQ', Mercedes-Benz tidak perlu menggunakan 'SUV' sebagai akhiran untuk menggambarkan sesuatu model itu sebagai SUV. Mana-mana model dengan 'G' atau 'GL' difahami sebagai SUV.
Kini EQE dan EQS keduanya dirancang sebagai sedan, dengan varian SUV diberi nama EQE SUV dan EQS SUV. Lagi teruk ialah produk pertama yang datang dari jenama EQ ialah EQC – sebuah SUV. Ya betul. Mereka sudah memiliki sebuah SUV yang tidak memiliki nama "SUV" padanya …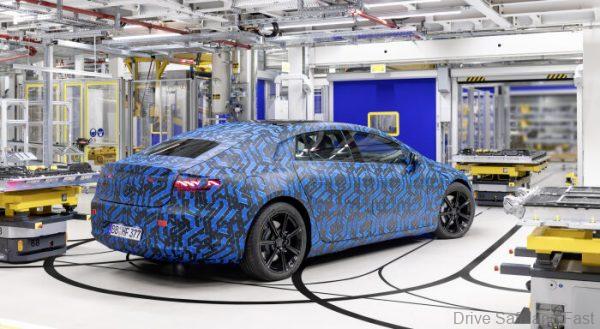 Yang juga bermaksud tidak ada ruang dalam tatanama baharu ini untuk Mercedes-Benz tampil dengan sebuah sedan di kelas tertentu ini kecuali mereka memanggilnya sesuatu yang lain, yang berisiko sekali lagi untuk merombak keseluruhan nomenklatur. Kecuali jika mereka memanggilnya EQC Sedan.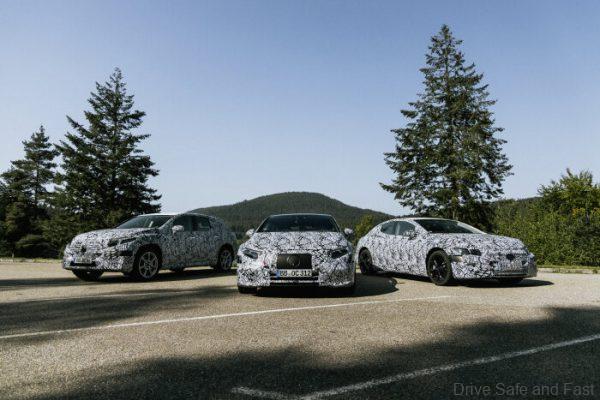 Ini pendapat Mercedes-Benz sendiri mengenai strategi produk elektrik mereka yang akan datang ini.
SIARAN MEDIA
Mercedes-Benz is targeting leadership in electric drives and vehicle software. The consistent electrification of the entire product portfolio is a key element of the strategic focus "Ambition 2039" and a prerequisite on the way to CO₂ neutrality. In 2022 the portfolio includes eight all-electric Mercedes-EQ models. The global Mercedes-Benz production network is ready for the company's electric product offensive and is integrating its Mercedes-EQ models into series production in its existing plants.
The EQS, the first electric luxury sedan from Mercedes-Benz, will start in the first half of 2021 in Factory 56 at the Sindelfingen site (Germany). With the production launch of the electric compact SUV EQA at the Rastatt plant (Germany) and the current decision to locate EQB production in the Hungarian plant in Kecskemét, the company is taking further important steps toward making its product portfolio CO₂ neutral. The course has also been set toward "Electric First" in the global powertrain production network as well. High-efficiency battery systems will also be manufactured and assembled within the production network.
Mercedes-Benz vehicle plants consistently implement electric offensive
In May 2019 production of the EQC (combined power consumption: 21.5 kWh/100 km; combined CO₂ emissions: 0 g/km)1 at the Mercedes-Benz plant in Bremen (Germany) was integrated into ongoing series production. Just a few months later the German-Chinese production joint venture, Beijing Benz Automotive Co. Ltd. (BBAC), launched EQC production for the local market in China. In 2020 production of the EQV premium electric MPV (combined power consumption: 26.4 kWh/100 km; combined CO₂ emissions: 0 g/km)1 started in Vitoria, northern Spain.
Compact car class customers can look forward to two fully electric compact SUVs in the EQA and EQB in 2021. EQA will celebrate its world premiere on January, 20 2021 as the first fully electric derivative of this compact car. The EQA production launch at the Mercedes-Benz Rastatt plant went smoothly. As with the EQC from Bremen and Beijing and the EQV from Vitoria, which are already on the market, the fully electric models at the Rastatt plant run on the same production line as compact vehicles with conventional and hybrid drives. That means all five vehicles produced in Rastatt are electrified: In addition to the fully electric EQA, the A‑Class, A-Class sedan, B-Class and the compact SUV GLA are also produced at the Mercedes-Benz plant in Rastatt – with classic combustion engines as well as plug-in hybrid drive. With that the Mercedes-Benz Rastatt plant is making an important contribution on the road to a CO₂ neutral vehicle fleet and to the Mercedes-Benz AG electric offensive. EQA production will also follow next year (2021) at BBAC in Beijing for the Chinese market.
EQB production will launch in 2021 at two locations in the global Mercedes-Benz Cars production network: in the Hungarian Mercedes-Benz plant in Kecskemét for the world market and in the German-Chinese joint venture BBAC in Beijing for the local market. Plant preparation, including employee training and renovation work, is already underway. The compact SUV EQB will be the first purely electrically powered production vehicle from Hungary and will complement the plug-in hybrid portfolio consisting of the CLA and CLA Shooting Brake. The A-Class will also be produced in Kecskemét with a plug-in hybrid drive, in addition to production in the German Mercedes-Benz plant in Rastatt.
Furthermore, in the first half of 2021 production of the EQS electric luxury sedan will begin in Factory 56 at the Mercedes-Benz plant in Sindelfingen (Germany). EQS is the independent, fully electric member in the new S-Class program and is the first to use the new electric architecture for luxury and upper-class electric vehicles at Mercedes-Benz. In Factory 56 the S-Class and, in the future, the Mercedes-Maybach S-Class, and the EQS will be produced in a fully flexible manner on the same line. Factory 56 embodies the future of production at Mercedes-Benz and sets new standards for automobile construction. In Factory 56 efficiency gains of around 25 percent are achieved compared to the previous S-Class assembly. This is made possible by optimizing the entire value chain and full digitalization with MO360, the digital Mercedes-Benz production ecosystem. For further information on this: https://media.daimler.com/marsMediaSite/ko/en/47014243
Furthermore, the Mercedes-Benz plant in Bremen will begin production of the EQE business sedan in the second half of 2021, followed shortly thereafter at the Beijing plant. The EQE thus complements the all‑electric portfolio of the two plants. The Beijing plant will then produce a total of four Mercedes-EQ models for the local market.
The Mercedes-Benz plant in Tuscaloosa (USA) is also preparing for production of the EQE SUV and EQS SUV in 2022, which will be produced in the future on the same line with SUVs with conventional and plug-in hybrid drives.
In 2022 a total of eight Mercedes-EQ electric vehicles will be produced at seven locations on three continents. This is possible because the company made early investments worldwide in flexibility and technical equipment with future-oriented Industry 4.0 solutions. In the Mercedes-Benz AG plants, vehicles with different drive types can be produced in parallel thanks to highly flexible structures. With a view to the strategic goal of generating more than half of sales with so-called xEVs, i.e. plug-in hybrids and electric vehicles, from 2030 on and gradually increasing the purely electric share, the high degree of flexibility is a decisive advantage. It enables production to be adjusted at short notice depending on market demand.