Bentley Mulliner Menambah Continental GT Coupé Ke Koleksinya
Coupé Continental GT Mulliner telah diperlihatkan secara dalam talian menjelang debut fizikalnya pada 22 September. Kenderaan ini bergabung dengan Continental GT Mulliner Convertible dalam portfolio "Koleksi" syarikat.
Untuk beberapa konteks, Mulliner adalah cabang pembinaan gerabak khas Bentley, dan Continental GT Coupé adalah grand tourer 2 pintu jenama mewah itu. Artikel ini semestinya dapat membantu anda memahami portfolio Bentley lebih baik sedikit. Untuk maklumat lanjut mengenai Bentley Mulliner, ini adalah artikel mereka.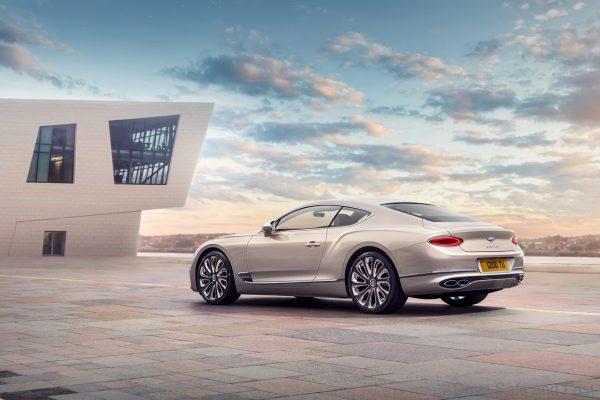 Berikut adalah senarai ciri yang telah diubah oleh Mulliner:
Gril 'Double Diamond' matrix baharu
bolong fender depan dengan reka bentuk perak dan hitam + penjenamaan Mulliner krom
Atas cermin Satin Perak dengan Lampu Selamat Datang Mulliner
Sil pintu luar yang diterangi dengan teks Mulliner
Roda Mulliner 22 inci baru dalam kemasan yang dicat dan digilap serta pusat lencana rata diri
Selimut dalaman Diamond-in-Diamond mendapat jahitan kontras dan aksen yang mengikut reka bentuk berlian
Pembahagian warna eksklusif untuk fabrik model ini
Logo Mulliner bersulam di tempat duduk
Tikar lantai dihiasi dengan piping-mikro agar sesuai dengan tema warna dalaman yang lain
Butang pengekal Chrome Bentley 'B'
Bumbung kabin dipangkas sepanjangnya dengan sorotan lekukan, atau penyembunyian halus agar sesuai dengan penyandar tempat duduk jika bumbung kaca tetap dipilih
Konsol tengah mendapat kemasan teknikal penggilingan berlian baharu yang menggunakan pemesinan tepat untuk membentuk corak segi yang sempurna, diapit di kedua sisi oleh venir walnut Grand Black dengan lapisan krom
Jam Breitling istimewa
Pemperibadian boleh didapati melalui 88 kemasan veneer kontemporari berwarna
Kenyataan Media
Bentley Mulliner is adding to its new Collections portfolio and creating the new luxury pinnacle of the Continental GT family with the new Continental GT Mulliner coupé. This sibling of the GT Mulliner Convertible celebrates modern craftsmanship and offers the client even wider possibilities to commission a unique Bentley to their individual specification.
The Continental GT Mulliner coupé makes its global debut at Salon Privé which is being staged in the grounds of Blenheim Palace, UK, from 22 September where it will be displayed alongside the Bentley Mulliner Bacalar, also making its public debut, and an as-yet-unannounced example of the Mulliner Classic portfolio.
A suite of exclusive exterior design features separate the Continental GT Mulliner from the rest of the family. At the front, the new 'Double Diamond' matrix grille defines the new Mulliner signature style, complemented by matching front fender vents echoing the same silver and black design and with chromed Mulliner branding. Approaching and opening either doors reveals the other Mulliner design features – Satin Silver mirror caps with Mulliner Welcome Lamps beneath, and illuminated outer door sills with Mulliner text.
The car sits on new and unique 22" Mulliner wheels, with a bespoke design of elegant beauty in a painted and polished finish. The centre badge of each wheel is self-levelling, keeping the iconic Bentley 'B' upright at all times.
The cabin of the Continental GT Mulliner is one defined by luxury, and showcases a level of choice and customisation that only Mulliner can provide. A unique colour split is exclusive to the car, with a new combination of primary and secondary hide joined by a third colour through a flowing design line.
Eight different three-colour combinations are proposed by Mulliner, using Bentley's palette of hides and threads to create striking yet elegant contrast throughout the cabin.
The Mulliner Driving Specification is fitted as standard, bringing the "Diamond in Diamond" quilting to the seats, doors trims and rear quarter panels, now with both contrast and accent stitching running through the diamonds design.
It takes almost 400,000 stitches to deliver this quilting across the cabin of the car, with each diamond containing exactly 712 individual stitches – each one precisely aligned to point to the centre of the diamond it creates. Developing the embroidery process to deliver this process alone took 18 months.
The seats themselves are finished with embroidered Mulliner logos. The floor mats are edged with micro-piping to match the rest of the colour theme of the interior and chrome Bentley 'B' retention caps are an example of the fine details that separate the Continental GT Mulliner.
The roof of the cabin is trimmed along its full length with indented hide, or smooth hide to match the seat backs if the fixed glass roof is selected.
The centre console is dressed in a new diamond milled technical finish that uses precision machining to form a perfect pattern of facets, flanked either side by Grand Black walnut veneer with chrome overlays. A unique Breitling clock sits in the centre of the console, while the passenger side fascia is finished with a silhouette of the car's exterior profile and the Mulliner logo. The veneer flows into the doors, where it is completed by a discreet Bentley 'B' motif.
For the driver, the brushed-metal finish of the Breitling clock is carried through from the physical world to the digital, with a unique design to the main gauges of the LED main instruments cluster where careful skeuomorphic design and the application of digital textures makes the virtual dials look like real metal.
Further personalisation is available through a range of 88 contemporary, colourised veneer finishes that can be matched to the interior or exterior of the car. Burr walnut veneer is hand sanded and polished to produce a perfectly smooth finish before painting to match the colour of the customer's choice. Once dry, the veneer is polished to achieve a mirror-like finish.
Customers of the Continental GT Mulliner can choose either Bentley's iconic 6.0-litre W12 powertrain delivering 635 PS (626 bhp), or its sublime 4.0-litre V8 offering 550 PS (542 bhp), for a level of performance to juxtapose the car's handcrafted luxury.
Bentley's pioneering 48V electric active anti-roll technology – Bentley Dynamic Ride – is fitted as standard*, delivering incredible body control and stability during cornering and a relaxed, cossetting ride when cruising.
Orders for both coupe and convertible versions of the Continental GT Mulliner will be taken from October, with first deliveries beginning early next year. Customers of the Continental GT Mulliner will receive the keys to their car in a bespoke, Mulliner-branded and handcrafted presentation box containing individual leather pouches matching the three-colour interior configuration of their car.